Our Value-Added Services Offer Something Extra
Value-added services in e-commerce work as powerful catalysts to draw revenue in highly competitive market. It makes the entire process less complex, ensures customer experience more memorable, and helps you stand out by adding that extra in your regular operations.
Ingold Solutions ensures the success of this complex process with:
Sales Excellence
Marketing
Customer Services
Logistics Fulfillment
We ensure that our platform is always updated to serve you the best in performance marketing. Get a better glimpse of our Value-Added Services.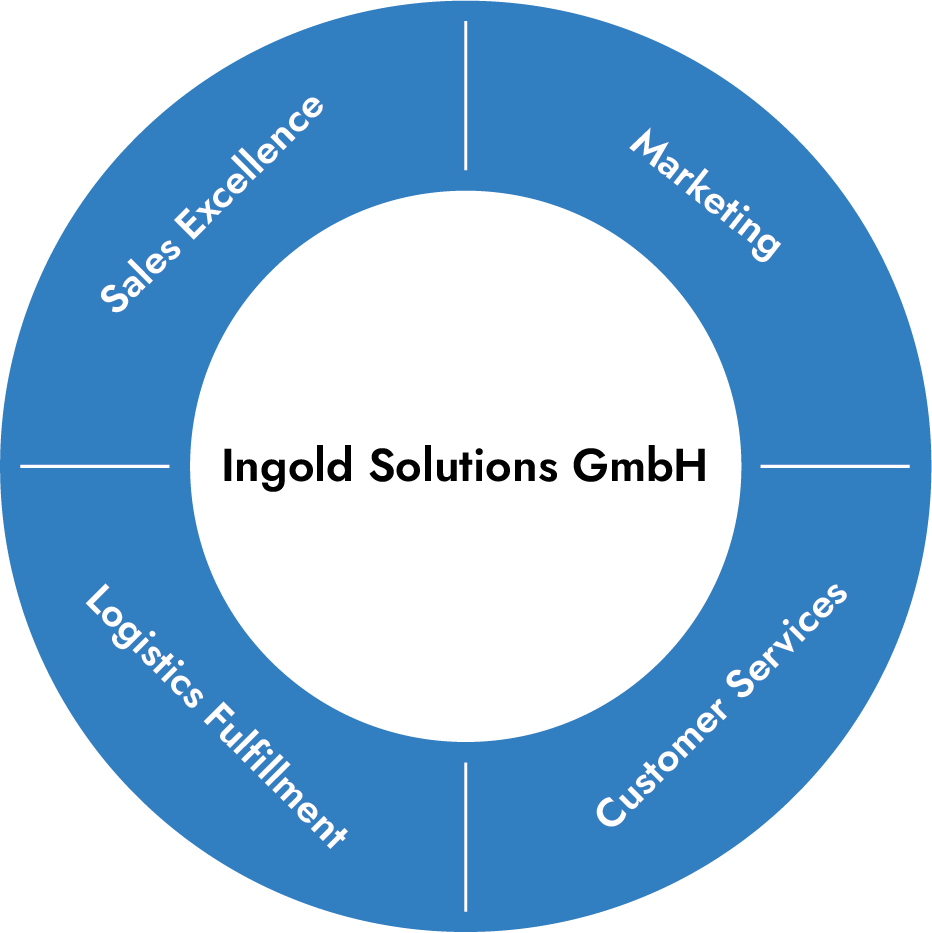 Sales Excellence
The quality of your data improves with more product data entered. Many marketplaces require at least 95% product data quality. In other words, there must be around 95 out of 100 possible attributes – mandatory and optional – imported for a certain category or group.
Mandatory Attributes: These include brand name, fabric and material, material details, colour, output size, care instructions, etc.
Optional Attributes: These include side lengths, additional colours, waistband details, and others.
The marketplace witnesses a cutthroat competition. Almost 80% of the purchases made on marketplaces are done by using filters. You might miss out selling our products to the target group if different attributes are not mentioned properly.
There are several ways you can craft your content to improve your product placement on marketplaces.
Images Of The Products: What do your customers notice first while browsing through your products? Well, it's the cover image that makes the biggest first impression. Texts and images make equal impact as content on the e-commerce sites. The photographs of your products should be of high-resolution, taken from different angles including closeups and must look professional. The background should be tidy and the colour contrast should also be taken care of to create interest among your target customers. Videos and fabric cut-outs also work great to stand out from the crowd.
Product Title: Once your potential customers check out the images, the next thing they focus on is the title of the product. The right and complete product title plays a major role in purchase decision. So, an attractive and meaningful headline must accompany the product image.
Description: Describing your products creatively is crucial to grab attention of your target buyers. Dry facts are not enough to allure customers in B2C sector. A product text that describes the product creatively does magic during purchase decision.
Selling Points: Unlike on-site sales, your potential customers can never hold the products in hand to check for the fabric, quality and other factors. So, it is important to provide detailed information about size, weight, fabric, and every relevant detail that might count as selling points.
SEO: It is always advisable to consider Search Engine Optimisation when posting items on the online marketplaces. Search engines direct users towards offers, or else users may go for the competition. Your aim should be to appear at the top of the search results, and SEO does it in the best way.
Marketing
We, as Google ads agency partner, help to optimise your performance marketing on marketplaces as well as on online shops. The reporting for online shops is quite similar to that on marketplaces, and that's why it is easier to track your success. Our Google Analytics certified professionals maintain a report of your sales both before and after returns as an essential success factor in performance marketing. Our service package in online marketing includes:
SEO & SEA
Social Media Ads
Google Ads
Newsletter
Retargeting
Shopping Portals
We optimise the marketing mix as per your brand, budget, and requirements on marketplaces:
Marketplace Shops
Sponsored Product Ads
Newsletter
Teaser
Social Display & Retargeting
Customer Service
You can focus on your core business, as Ingold Solutions customer support team takes care of your customer service requirements. We ensure to integrate all your social media channels and messengers to your online shop before operating them on your behalf.
We take care of the following channels and messengers:
Social Media Platforms: Facebook, LinkedIn, Instagram, Twitter, Pinterest
Messenger: Facebook, Instagram
Video Apps: Microsoft Teams
Our customer support team is dedicated to a world-class service. Our team answers to the 1st level inquiries and frame answers on your behalf. We also provide 2nd and 3rd level support within your company and define answers with you.
Logistic Fulfillment
Are you an international brand that's growing fast? Our logistic team makes sure to meet all the B2C service requirements of the international marketplaces by adapting the right concepts to your company and its e-commerce strategy. We process the returns as per your brand's specifications and requirements.
Our goal is to offer an opportunity to make your products unique.