Two weeks back at Ecommerce Berlin Expo, we had a great conversation with a budding retail entrepreneur. Luckily, he was well versed with the changing consumer behaviour. But he was not quite sure of how to be operationally agile. While he was looking for ways to improve customers' satisfaction level, at the same time he was worried about const-efficiency. Like every other SMEs, his startup was also constantly facing new challenges and opportunities as it continuously strive to grow in the modern digital economy. When he approached Ingold Solutions GmbH for some practical solutions, we told him how SAP Business One Services in Berlin have helped retail entrepreneurs fast track their growth.
Gain a better visibility of the key operations with SAP Business One® in Berlin
For an SME, managing business operations on a day-to-day basis becomes a challenge. There's no streamlined way of managing cash flow, supply chain, and operations. Meeting every evolving market condition and customer needs becomes a challenge. With SAP Business One® services in Berlin, gain a better visibility over every business process and control it from a single intuitive dashboard. This way, it's easier to meet your goals and bring in efficiency across the enterprise.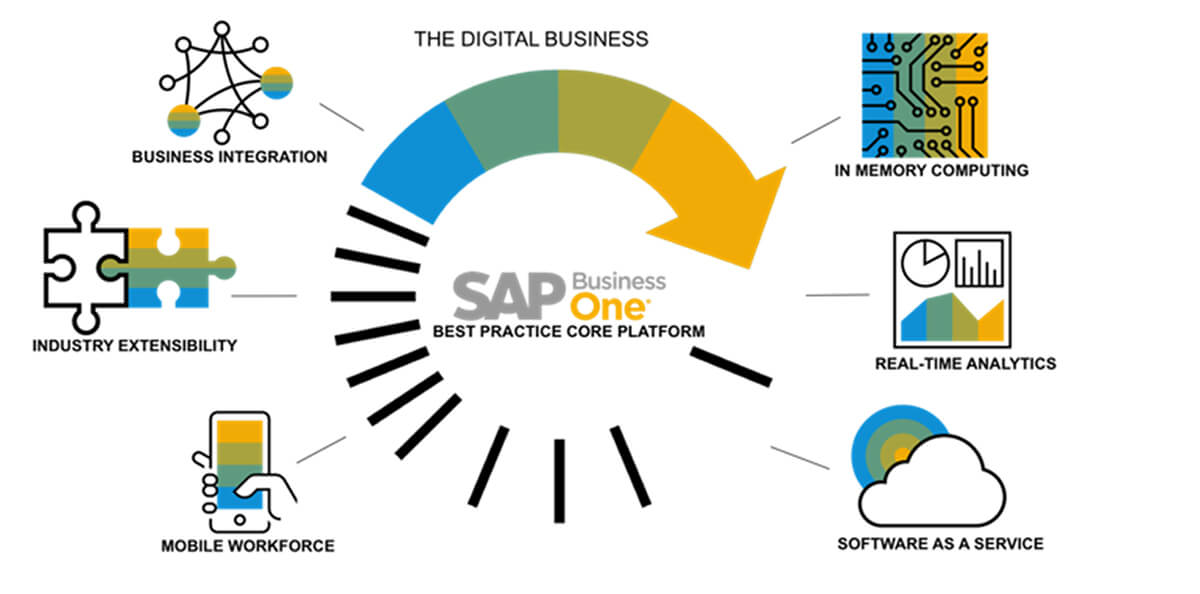 Streamline your Finances
Financial management is tricky. More so, when you are managing financial data in ten different spreadsheets. By implementing ERP solutions of SAP, you can effortlessly connect your financial operations with other key processes in your business in real time. For example, when your financial operations are connected with inventory management, purchasing, sales, expenditures you get a better visibility of the transactions and improve your cash flow.
Seamless Supply Chain Management
For any small business, supply chain management becomes a challenge. It involves many different processes. Managing vendor quotes, supplies and payments is a juggle. With an effective ERP solution, you get better visibility and control over the order to pay cycle and provides a better way to manage your PO, receipts, invoices, returns, and payments. Also, you can get robust dashboard reporting and check it with the goods receipts so that you have the complete knowledge of inventory and stock updates.
Keep a tab on customers' needs
Sales and customer relationship management should be an integrated operation. ERP can help you do that effortlessly. While you can track progress from the start of the deal to the end, you can improve your pipeline accuracy. Once your prospect becomes a customer, you can manage all of your customer relationship and marketing activity through a single platform. Having all your data in one place, can improve communication and customer satisfaction level at every touchpoint.
Improve decision making
ERP by SAP comes with predictive analytics tools and other features, which helps you create data-backed intuitive reports. You can customise all the reports accordingly as per your requirements. It helps you get greater confidence in your decision making. With an array of tools you can configure the settings and get report on each and every aspect of your business, which helps you achieve a more agile approach to decision making.
Enjoy hassle-free implementation of SAP Business One® Services in Berlin
Ingold Solutions GmbH, an SAP Silver Partner, we offer seamless implementation of the software, on-premise as well as on Cloud. The best part is you can leverage the best practice systems right after the implementation. No matter what industry you're in, we can tailor the ERP solutions as per your needs. Thus, you can expect thoughtfully designed solutions for your wholesale, retail, manufacturing, construction or distribution business or more. And it's fairly quick, cost-efficient and hassle-free to implement compared to other solutions on the market.
SAP provides an array of tools and tactics to help SMEs ensure streamlined operations, gain control and make informed decisions backed by data. Get in touch with Ingold Solutions, a proud SAP Silver Partner in Berlin to leverage benefits and fast track your business growth.