In this digital era, it is important to find the perfect eCommerce platform that meets your business needs. Today in this blog we are going to discuss the amazing capabilities and the shortcomings of WooCommerce vs Magento (now known as Adobe Commerce).
In this comprehensive analysis, we will explore the pricing, features, ratings, and reputation of both solutions, enabling you to make an informed decision and choose the optimal solution for your business.
eCommerce and Its Benefits
eCommerce or electronic commerce is the trading of goods and services effectively on the internet. As an e-business owner, it is your brick-and-mortar shop where you can easily understand your targeted customers and make your strategies accordingly. According to a study, more than 2.14 billion people are shopping online and the numbers are gradually increasing.
Here are a few significant benefits of owning a eCommerce store, that are sure to make you think as a business owner.
Online business is growing rapidly and creating a great impact on the global economy.
It offers a wide reach covering your target audience easily.
Operating costs are lesser than physical business.
eCommerce Trends to Follow
Along with the rise in online stores and consumers, eCommerce trends are also changing. These trends will keep you updated and let you see where things are headed.
AI enhances the online shopping experience.
More and more people are looking for products using voice search.
Track your consumers and their behaviour easily using AI.
Big Data plays a vital role in user experience.
Chatbots are used to make the shopping experience more seamless.
Users are more addicted to shopping on the go.
Multiple payment gateways are integrated.
Subscriptions keep customers coming back and stay in touch.
B2B is growing and changing.
Designing an eCommerce store is almost impossible without the use of Magento or WooCommerce. Let's find out where they can help and perfectly fit.
Magento and How It Can Help
Magento has increased the efficiency of managing eCommerce stores. Small and mid-level companies are choosing it for not just their online stores but also for saving money. The flexible end-to-end eCommerce solution offers customers to get customised site functions. They can use the open-source platform to create the best customer experience.
Magento comes with a wide range of out-of-the-box features to standardise an eCommerce website.
Page builder
Content staging
Immediate purchase to increase conversion rate
Visual merchandising
Business Intelligence
Dynamic rule-based product relations
Get a FREE one-on-one consultation with Germany's Renowned Magento Agency.
WooCommerce and How It Can Help
The WooCommerce plugin allows you to use WordPress for building an online store. It converts the simple WordPress operating system into a fully functional eCommerce store.
WooCommerce makes it simple and inexpensive to sell any product or service on your website. It enables you to sell digital and physical products, accept secure payments, manage inventory, and automatically sort all your taxes.
Get to explore some of the outstanding features of WooCommerce.
Integrate content seamlessly.
Modular features to add.
Make reservations and sell anything using WooCommerce.
Limitless addition of products and users.
More than 400 extensions to add.
Countless themes.
In-built blogging.
WooCommerce vs. Magento At a Glance
WooCommerce and Magento are renowned platforms utilised by a vast user base, including millions of customers, for their online work: WordPress and Adobe. Both WooCommerce and Magento offer free versions supported by active communities that discuss queries, concerns, and effective troubleshooting methods.
The primary difference between WooCommerce and Magento lies in the planned scale of your e-commerce activities. WooCommerce excels in its simplicity and accessibility, as it seamlessly integrates with WordPress, making it an excellent choice for a wide range of websites on the internet. On the other hand, Magento offers many functionalities tailored specifically for e-commerce operations. If you're building a larger-scale e-commerce business, Magento might prove to be a more robust yet comparatively costlier option for achieving success.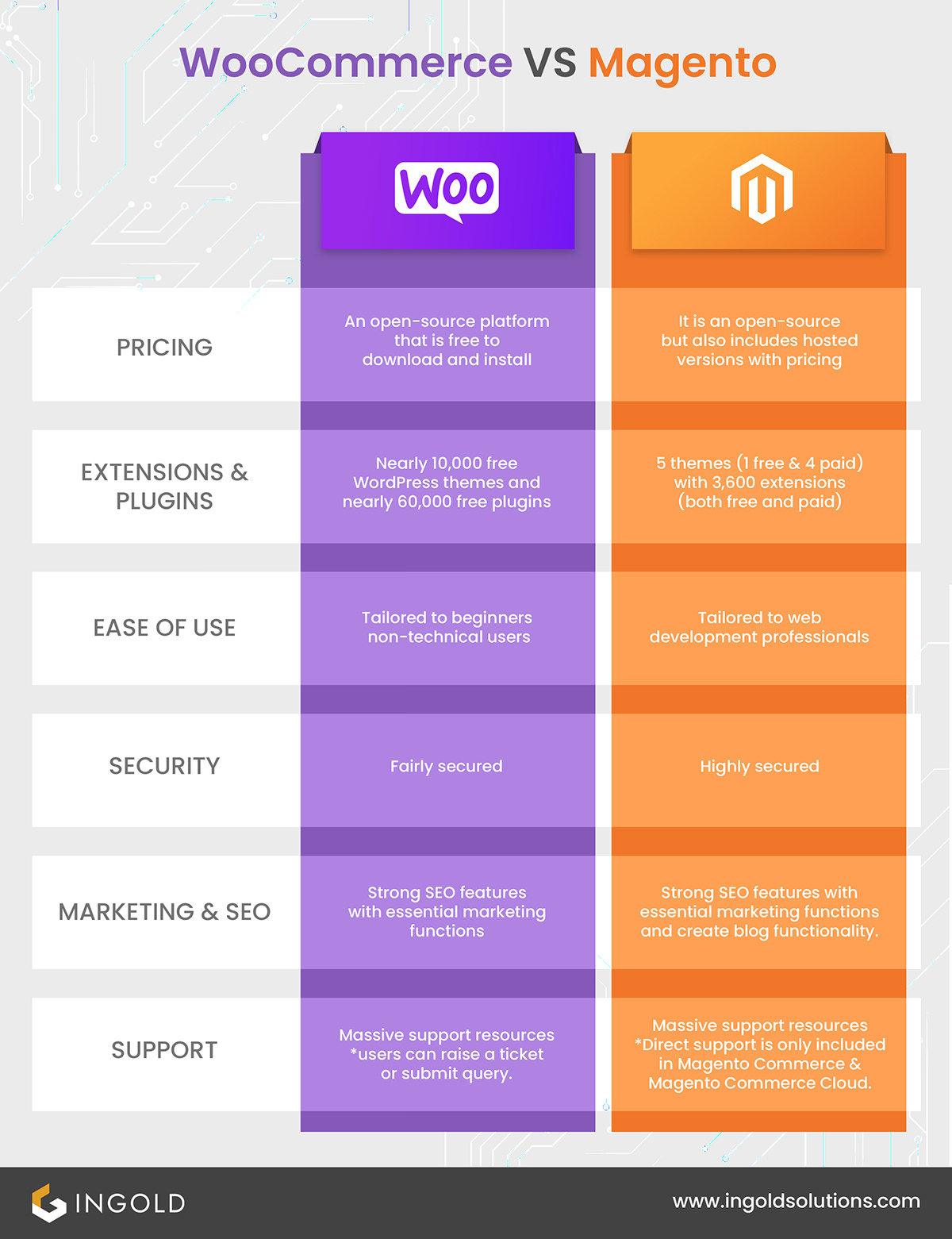 Bottomline
In conclusion, WooCommerce and Magento (now known as Adobe Commerce) cater to different customer needs in the e-commerce space. If you're looking to incorporate e-commerce into your existing business operations and require a user-friendly platform for hosting products and facilitating checkout, WooCommerce is the ideal choice. On the other hand, if you're embarking on a larger-scale venture with a substantial product catalogue, Magento (Adobe Commerce) offers a robust solution for managing and hosting your expansive e-commerce operation. Choose the platform that aligns with your specific business goals and requirements to maximize your e-commerce success.
At Ingold Solutions, we provide both services at prices tailored as per industry standards. If you are thinking of building an eCommerce store and promoting it efficiently then get in touch with us today.